Birding Adventure on Northern Ecuador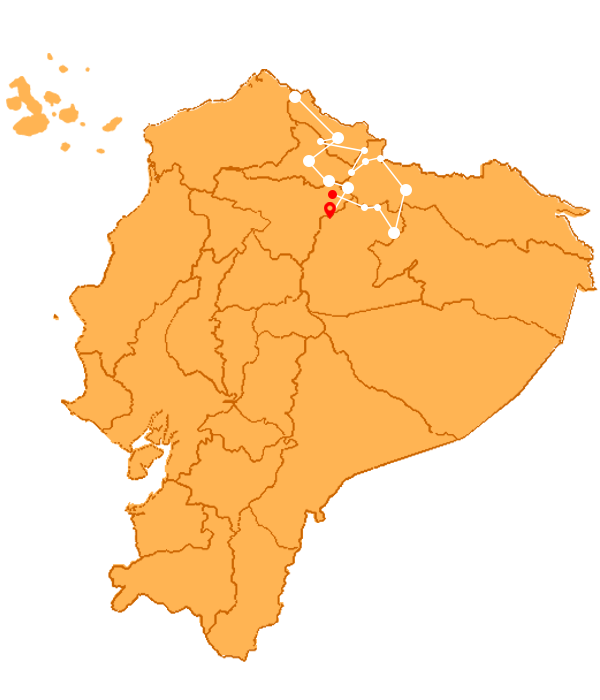 Difficulty: Moderate
This itinerary is designed to be an extremely diverse adventure taking birders through spectacularly beautiful, albeit sometimes rugged terrain, in areas along and near the Columbian border. Many of our sites are not often included in tour itineraries due to their relative remoteness, but are loaded with specialty Choco and northern highland birds not found, or hard to find in the more commonly birded areas – all these, on top of most of the more usual fare. We will cover territory from sea level and lowland Choco, up and over the Continental Divide (4400 masl), all the way down to the Amazon Lowlands. The result? We expect a great list of Choco specialties, a thorough treatment of the covered highlands including both slopes, and a taste of the eastern lowlands. We will follow a cleverly thought-out route designed to minimize travel time and maximize birding time. We anticipate a large and diverse list loaded with specialty birds of the North. We expect this itinerary will appeal to both the seasoned South American birder, as well as first–time Ecuadorian birding adventurers. Join the Northern Ecuador Birding Adventure for a tremendously rewarding unique International Birding experience you and your list will never forget.
Included

entrance fees

Food (3 meals daily)

lodging

Personal Guide

Professional bilingual guide specialized in birds and natural areas

Professional touristic transport

taxes

Not Included

alcoholic beverages

extra activities

Flights

snacks

souvenirs

tips
Tour Plan
Day 1: Arrival and Transfer-in to hotel
Arrival and Transfer-in to hotel. If the group gets in mid-day than there is Interandean birding to be done in Puembo / Pifo or a comfortable room will be waiting for resting up in preparation for our adventure. Many flights tend to arrive later in the evening. If all flights are arriving at the same time, the hotel may be strategically changed a bit further north and an afternoon birding activity will be scheduled in interandean forest if desired and time allows. Night: Puembo, Pifo or Cayambe
Day 2: Lago San Pablo, Cuicocha & Laguna Piñán
In the morning we have a short drive north to Lago San Pablo, where will look for the Ecuadorian Rail and Subtropical Doradito in particular, picking up Andean waterfowl and interandean species as a bonus around the border of San Pablo lake. From here we will visit Cuicocha lake. This lake is one of the prettiest in the country and we will be going close by anyway so should not be missed. While we are there, maybe we can pick up Silvery Grebe and Cinereous Harrier. After a lunch in Cotocachi, we will have about a 3 hour drive to the community of Piñán which will be one of our longer rides. After settling into our refuge manned by the community of Piñán, we can bird the large lagoon nearby for the remainder of the day. Night: Piñán
Day 3: Paramo Cotocachi Cayapas National Park and Cayapas Trail
We are going to explore a isolated ancient indigenous site where a new population of the rare and endemic Black-breasted Puffleg was recently discovered. This site is accessed by mule ride through pristine paramo moorland. Black-thighed Pufflegs are sometimes in this area too as well as other nice Andean highland species. Around midday, we will start birding our way back to the community of Piñán, where we will gather our things and continue north. Night: Gualchan
Day 4: Chimal Bajo & Dracula Reserve
Chimal Bajo offers the best known Red-ruffed Cotinga Lek we can access. This large colorful bird has a weird disconnected range and will be our primary target for the morning. Our primary target here will be the Fruitcrow although we are likely to add more new birds to our list. From here we will head to the Dracula reserve to look for Moustached Puffbird, Fulvous-dotted Treerunner, Purplish-mantled Tanager, and more. Night: Gualchan
Day 5: Cerro Golondrinas & Lita
La Primavera offers excellent birding, with the highest part boasting specialties such as Purplish-mantled Tanager, and Fulvous-dotted Treerunner. If that's not enough, Plate-billed Mountain Toucan, Orange-breasted Fruiteater, Toucan Barbet, Beautiful Jay, Hoary Puffleg and Black-and-Chestnut Eagle are also fairly common here. The flocks are plentiful and can be quite large. Hopefully, by lunch time we will have properly ticked both of these rare Choco endemics along with many other great Choco cloudforest birds and be ready to tackle the lowlands. We will get to the lowlands as soon as possible in order to start racking up species there. The wooded areas right around the town of Lita is a great place to look for lowland Choco endemics, which is exactly what we will do! Night: Lita
Day 6: La Union & Via Las Peñas
Today we focus on getting more lowland choco species, hoping for nice huge flocks filled with tanagers. Golden-chested Tanager and Black-tipped Cotinga are just examples on the list of birds we want to see here. Lowland sites with decent forest cover are quite diverse and the possibilities are tantalizing and numerous. This place is an ethnic reserve for the Awa people, who we will likely encounter as we bird. Eventually we will make our way out of the lowlands and even say good-bye to the Choco. By nightfall, we will be back in the internandean valleys. Our hotel for the night will be in a strategic place to visit another isolated highland site, Cerro Mongus. Night: Las Peñas
Day 7: San Francisco Graleras Majagual, Concepcion Road & Ambuqui
Mangroves await us today. We will see lots of mangrove specialists and be looking for more rare ones like the Mangrove Rail, Humboldt's Sapphire, and Rufous-necked Wood-Rail. Whistling-Ducks, Bitterns, and lots of Choco lowland species await us here. We will also stop and bird along the Concepcion road which is conveniently on the way back towards the Interandean valleys where we will be again by evening. The patches of forest along the road should augment our lowland Choco bird list even more before we leave the critically endangered bioregion. Night: Ambuqui
Today we visit Cerro Mongus. This place is wet and cold but the birds love it. Specialties here include Chestnut-bellied Cotinga, Black-thighed Puffleg, Tawny-breasted Tinamou, Gray-breasted Mountain Toucan, Crescent-faced Antpitta, Rainbow-bearded Thornbill, etc. In the afternoon, we will look for interandean species (we will see some nice distinctly arid habitat this afternoon) before going northeast to Huaca for the night. Night: Huaca
Day 9: Las Guanderas Reserve
Las Guanderas Reserve offers a rugged but very beautiful hike through treeline elfin forest habitat. The upside to rugged hikes is less people tend to do them, allowing an area to remain more pristine. The downside is less touristic infrastructure because of low amounts of visitors. Tawny-breasted Tinamu, Gray-breasted Mountain Toucan and Crescent-faced Antpitta will be major targets here. Eventually we will make out way east, which descends in altitude. Our next stop is La Bonita, which translates to "the pretty" place. Here we will look for Bicolored Antpitta. It is also a great place for Black-billed Toucans, mixed flocks with mountain tanagers and brushfinches. Night: La Bonita
Day 10: La Sofia Road & Cordillera Lumbaqui
La Sofia is lower in elevation than were we birding the day before. Anything we missed in the afternoon before will be fair game here and more! Particularly interesting bird species to look for here include White-naped Brushfinch, White-rimmed Brush-Finch, Lacrimose Mountain Tanager, Yellow-throated Tanager, Black-billed Mountain-Toucan and lots more. In the afternoon, we will be in the lowlands absorbing all the birding action we can before nightfall. Night: Lumbaqui
Day 11: Bosque Protctor Uturunku Munay, Cordillera Lumbaqui & Cosanga
This will be our only morning birding the Amazon lowlands so hopefully we will be adding lots of new birds to our trip list before heading back up to the cloud forest for the night. We will have time the following day to bird in the cloud forest, so my suggestion will be to linger in the lowlands for as long as possible. We only have one night in Cabañas San Isidro, so we are going to want to make the most of that also, looking for owls once it is dark. Among the nocturnal possibilities, the San Isidro Owl has a very restricted range and undetermined taxonomy. Night: Cabañas San Isidro
There is an insectivore hide in San Isidro that attracts many skulking birds potentially, including White-bellied Antpitta, warblers, wrens, ovenbirds, and more. The general area around the cabins is also very active in the mornings, with both species of quetzal, masked trogon, black-chested fruiteater, and sickle-winged guan. Other regulars include Black-billed Peppershrike, Olive-backed and Montane Woodcreeper, Golden-crowned Flycatcher, Green (Inca) Jays, Subtropical Caciques, Russet-backed Oropendolas, etc. Night: Guango Lodge
Day 13: Guango Lodge & Termas Papallacta – PN Cotocachi Cayapas
Guango is full of hummingbirds and large flocks. The flocks could have mountain-tanagers (Lacrimose, Hooded, Black-chested, Buff-breasted, Scarlet-bellied), Turqoise Jays, Mountain Caciques, Dusky Piha, Gray-hooded Bush-Tanager, Blue-and-black Tanager, Capped or Blue-backed Conebill, Pearled Treerunners, etc, etc etc. Walking by the Papallacta River notoriously turns up quality views of Torrent Ducks, and occasionally there are Mountain Tapir foraging right on the trails. The hummers here of note are Sword-billed Hummingbird, Tourmaline Sunangel, Mountain Avocetbill, Mountain Velvetbreast, Glowing Puffleg, etc. After lunch we will head behind the close-by town of Papallacta to look for treeline species like Masked Mountain Tanager, Black-backed Bush Tanagers, Golden-crowned Tanager, Crescent-faced Antpitta, and whatever else we missed en Las Guanderas. Night: Guango Lodge
Day 14: Papallacta Pass & Puembo Birding Garden
First we will look for the Rufous-bellied Seedsnipe. Sometimes this bird requires tremendous patience and sometimes he is seen from the parking lot. This is also a good site for Andean Snipe, Andean Fox, Spectacled Bear, etc. After properly birding this area, we will head a bit lower and bird patches of Polylepis forest, looking for Giant Conebill and any other Paramo species we might have missed along the way. We will have lunch on the way back to Quito and finish the day birding interandean species in Puembo Birding Garden, where we will finish off the tour with a celebratory dinner! Arrangements will be made for everyone to arrive at the airport as needed. Night: Puembo
• Small group Price: $ 4,940 • Large group Price: $ 4,280 • Set Departure Price: $ 3,820 • Single person supplementary $550 *Exact Itinerary may be forced to change slightly based on weather conditions or unexpected events such as land slides.
• Sunscreen • Herbal bug spray • Long breathable clothing • Warm water-resistant wind-resistant clothing for highlands • Hat or buff for warm weather and cold weather • Water bottle • Poncho or light rain jacket and heavy duty jacket • Camera with rain protection (e.g. drybag) • Flashlight • Comfortable hiking shoes and rubber gum boots (only for some hikes) • Binoculars