Ecuador: Megadiversity redefined!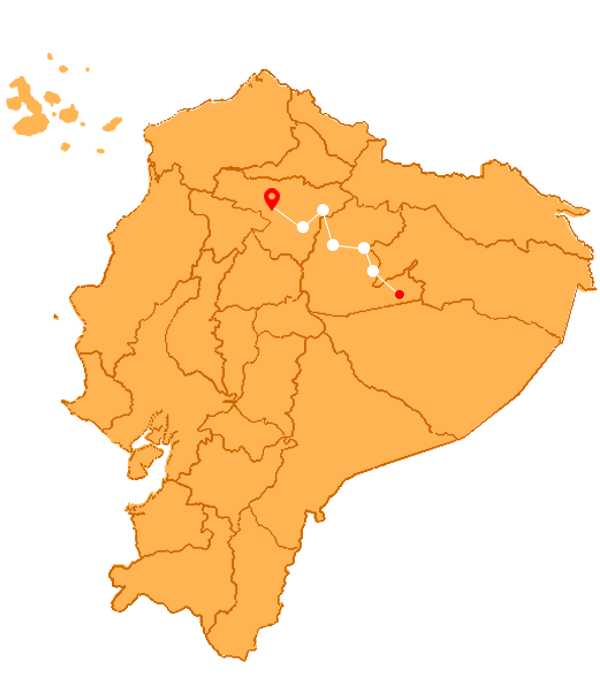 Ecuador: Megadiversity redefined!
Ecuador is one of the smallest countries in South America but has one of the highest lists of birds species in the world! The country prides itself on being megadiverse and with over 1600 avian species, International Birders will find plenty of reasons to keep visiting the tropical paradise. While birding, it will be impossible not to intake the amazing gamma of habitats and plethora of flora and fauna waiting to be discovered at every turn. This itinerary is set-up to showcase a wide variety of habitats along Ecuador's more classic birding circuit close to its capital city, Quito. Many of the stops on this itinerary are famous, must-visit places among the International Birding community. The route offers a very nice mixture of opportunities to sit and wait for birds to come to you with actively seeking them out on well-used birding tracts.
Departure

QUITO, ECUADOR

Dress Code

Sunscreen, herbal bug spray, long light clothing, a hat or buff, water bottle, poncho, camera with something waterproof to put it in, flashlight, comfortable hiking shoes, and binoculars.

Included

entrance fees

Food (3 meals daily)

lodging

Personal Guide

Professional bilingual guide specialized in birds and natural areas

Professional touristic transport

taxes

Not Included

alcoholic beverages

extra activities

Flights

snacks

souvenirs

tips
Tour Plan
Day 1: Arrival to Ecuador
Today, the most important goal will be to get everyone together in Quito and ready to go bird. Upon arrival, participants will be transferred into Quito, where they may elect to relax and prepare for the upcoming trip or get a head start by going to Quito's Botanical Garden. Night: Northwest Quito
Day 2: Zuro Loma, Yanacocha & Alambi
This will be a great start to your Ecuador experience! We are going to leave the hostal early so we can arrive to Zuro Loma by antpitta feeding time. Yanacocha has an excellent plaintain station drawing in Mountain-Tanagers, Brush-Finches and more and very nice hummingbirds, including Sword-billed Hummingbird. There is also an amazing trail system here to take in, which we will explore until lunch time. Then we will head towards Mindo, stopping along the way at a nice hummingbird garden. The amount of hummingbird species you see on your first day alone will blow your mind! After lunch and spending adequate time in Alambi and Guaycapi (they are neighbors so its easy to visit both. Alambi is an amazing garden with a short trail to the river where a Cock-of-the-Rock should still be nesting by the time you get here and great for White-capped Dipper and Guaycapi is a restaurant owned by a birder also set up for birders) we will continue on to Mindo. Night: Mindo
Day 3: Cock-of-the-Rock, the Antpitta Whisperer, & Bellavista
This morning is a real treat. We will be visiting one of the best cock-of-the-rock leks in the country and we don't want to be late. Darker clothing is best today. After the show is put on by the Cocks of the Rock, we will start looking for other stars of the morning. Wild antpittas and other birds (like Blue-winged and Black-chinned Mountain-Tanagers, Toucan Barbet, Sickle-winged Guan, Crimson-rumped Toucanet) will hopefully present themselves with astonishing ease. After antpitta time, we will focus in on hummingbirds and fruit feeders while having some traditional food ourselves. After eating our second breakfast, we will head towards Bellavista Cloudforest Reserve. We will drive some down the Bellavista Road looking for Plate-billed Mountain Toucan, Tanager Finch, Fruiteaters (Barred and Green-and-Black), mixed flocks, etc in the afternoon. Ample time will also be spent around the lodge area as it is a famous birding spot (for a reason). Night: Mindo
Day 4: Silanche Reserve, Rancho Suamox, & Milpe
Silanche and Rancho Suamox are both lowland Chocoan sites. The first is a 60 hectare fragment of remnant forest (30 years ago there were over 20,000 connected hectares there before heart of palm plantations moved in), which is packed full to the brim with birds. The flocks, if found, may contain over 30 to 40 species easily. Rancho Suamox is very close to the Silanche Reserve, but is a bit different. The Ranch operated as a hotel and the property, like the surrounding properties, was highly manipulated / disturbed. The owners have been reforesting the property and focusing on attracting birds. While many of the birds they attract are "common", they will be new birds for the trip and some of the birds they attract are quite rare. A walk around the property may yield some surprises as they have resident Spectacled Owls among other delights. We will have lunch in Pedro Vicente Maldonado and continue on towards Milpe. Silanche and Rancho Suamox are below 500 m.a.s.l. and Milpe is around 1000 m.a.s.l. meaning the first two are lowland Choco sites and Milpe is a foothill birding site. There will be some overlap but the differences certainly merit a visit to both! The feeders here are excellent and the hummingbirds will be all different from the morning's location. The trails are beautiful and may provide mixed flocks, maybe even an umbrellabird, or other surprises. Night: Mindo
Day 5: Mashpi Amagusa & Oilbird Caves
The habitat called 'Mashpi' by birders is a good bit different than that around Mashpi Shungo Reserve. It is higher in elevation and relatively pristine low-montane cloud forest. An exceedingly large number of birds are possible in this area, including many choco endemics. We will have good chances of photographing some of the more stunning tanagers including endemics such as Glistening-green Tanager, Moss-backed Tanager, Rufous-throated Tanager, Guira Tanager, Empress Brilliant, Velvet-purple Coronet and other show-stoppers like Golden-collared Honeycreeper and Bay-headed Tanager. At some point, we will explore a recently discovered area favored by Club-winged Manakins. The roadside here offers great forest edge birding with gigantic mixed flocks appearing frequently which could include Buffy Tuftedcheek, Orange-breasted fruiteater, Indigo Flowerpiercer, Choco Vireo, Black Solitaire, Rufous Solitaire, etc. We will spend the morning here and continue on for a midday stop at the oilbird caves. Mid-day to afternoon light usually offers the best light for viewing these strange creatures. Night: Mindo
Our primary target for the morning is the Long-wattled Umbrellabird. This bizarre bird is relatively abundant in the forest behind the small town of 23 de Junio. Here we can see the conservation efforts upheld by members of this small community as they have focused their attention on this iconic bird. Other interesting species may be found here including Club-winged Manakin and Black Solitaire. Night: Mindo
Day 7: Shungo Loma and transfer to eastern slope
Today we will look for lowland choco endemics in the Mashpi Shungo Reserve. The star of the show today is the Rufous-crowned Gnatpitta which will hopefully allow photo opportunities as he is hand fed his breakfast. Aside from this extremely elusive bird, we will also look for other lowland choco specialties including a variety of tanagers, toucans, parrots, flycatchers, antbirds, and much more. We will have lunch on the road and continue on to the eastern slope, spending the rest of the day birding Guango Lodge. Night: Puembo Birding Garden
Day 8: Papallacta Pass & Cayambe Coca National Park
First we will look for the Rufous-bellied Seedsnipe. Sometimes this bird requires tremendous patience and sometimes he is seen from the parking lot. Not many other birds live up as high as the seedsnipe and he will be our primary target. Afterwards, we can look for the Giant Conebill creeping about in a nice Polylepis patch. We will come back to Guango to get warmed up a bit and spend time with the hummingbirds before lunch. After lunch, we will visit the treeline forest in Coca-Cayambe National Park to look for specialists like Black-backed Bush Tanager and Masked Mountain Tanager Night: Guango Lodge
Day 9: Guango Lodge & Wild Sumaco
We will spend the morning in high montane cloud forest where hummingbird diversity is incredibly high. A walk on the beautiful trail system of Guango Lodge could provide mixed flocks, mountain-toucans, torrents ducks, and (with luck) maybe even a Mountain Tapir. After walking around, we will concentrate on seeing as many hummingbirds as possible. The star of the show for most people here is the Sword-billed Hummingbird, who has a bill longer than his body. But, there are several other species present here, often in impressive quantity. They don't mind if you get close either (I have had them land on me before, once on my ear). We will continue on to Wild Sumaco to have a mid-day lunch, ensuring we maximize our time in this wonderful Amazonian foothill forest. New hummingbirds will be evident and abundant immediately. We want to arrive in time to fully enjoy the new hummingbird diversity and have ample time to walk around in the forest in the afternoon. Wild Sumaco is a wonderful place for Owls and a night walk should yield all sorts of interesting creatures. Night: Wild Sumaco Lodge Consider adding one more night in Wild Sumaco to take advantage of the trail system.
Day 10: Wild Sumaco and the Amazon Lowlands
I recommend having breakfast just before the sun comes up so we can watch it rise if the weather is right. The area directly around the lodge is excellent for birding in the early morning, so that is our plan. We will be looking for many different residents as they forage moths still around the light trap behind the cabins. Night: Recomended Lowland Amazon extension or night in Gareno Lodge
If we took a lowland extension we will bird our way back to Coca and make our way to Gareno. If no other jungle lodge was added on, we will already be in Gareno and will bird the immense terra firme forest there. At night, there are plenty of owls to look for and other cool things to be found! Night: Gareno
Today's first target is going to be Fiery Topaz and after his show we will check up on the Rufous Potoo. Hopefully, we will nail both mega-rarities right off the bat! After that we will walk the trail system looking for mixed flocks and any other birds we can find. Gareno is filled with large flocks and is notorious for antbirds like Hairy-crested, Lunulated, or Band-winged Antbirds which are quite rare or absent in other localites closer to the River Napo. Also, the place is known for a repeating Harpy Eagle nest, meaning big birds are definitely around! In the afternoon, we will bird along the road to the community which can be really good for birds that don't mind slightly disturbed habitat. At night, we can look for Crested Owl and if we are lucky the Nocturnal Currasow will be calling close-by. Night: Gareno Lodge
Day 13: Gareno, Cosanga & Cabañas San Isidro
If we got rained out the first day or simply want to try again, we can go for the Fiery Topaz again, or simply hit the trail system earlier looking for all the birds we can find. Mid-morning, we will pack up and head towards Narupa Yacu, where we will have lunch and go for Spangled Coquette, Rufous-throated Sapphire, Gorgeted Woodstar, Blue-tailed Emerald and more at a new hummingbird garden. After spending ample time at the garden, we will head to Cabañas San Isidro. Night: Cabañas San Isidro
Day 14: Cabañas San Isidro
San Isidro is a bustling place in the morning. As it becomes light, many other birds come in to eat the moths attracted to lights placed around the cabins. Many birds potentially come in, including both species of quetzal, masked trogon, black-chested fruiteater, and sickle-winged guan. Other regulars include Black-billed Peppershrike, Olive-backed and Montane Woodcreeper, Golden-crowned Flycatcher, Green (Inca) Jays, Subtropical Caciques, Russet-backed Oropendolas, etc. After racking in lifers around the parking lot in the morning, we will head down a short path to an antpitta feeding station where someone from the lodge feeds worms to White-bellied Antpittas on a daily basis. After the antpitta session, we will head in for breakfast, and then go out looking for more birds along the a ridge trail that often attracts a large flock in the late morning. After lunch, we will drop in elevation over 1000 meters to Narupayacu. Verbena bushes have been planted everywhere along the trail system here. The trail leads to a nice waterfall and can provide some nice amazon foothill birds. The verbena bushes and hummingbirds feeders attract the true gems here. Gorgeted Woodstar, Rufous-throated Sapphires, Spangled Coquetes, Golden-tailed Sapphires, Blue-tailed Emeralds and maybe 10 more species of hummer can be seen buzzing around. Each night the weather is nice in San Isidro, we can look for the San Isidro Owl and other nocturnal birds. Night: Cabañas San Isidro
Day 15: Cabañas San Isidro & Puembo Birding Garden
The Guacamayos Ridge trail is part of the Antisana Ecological Reserve, but is much different than the part where the condors roam. The pathway descends gradually along a ridge overlooking the Amazon lowlands, traversing very pristine and lush cloud-forest. This trail has very rare birds and sometimes the flocks are well over 100 birds strong with many species zooming by. White-faced Nunbird, Black-billed Mountain-Toucan, Ocellated Tapaculo, Peruvian Antpitta, and Barred Antthrush are only some examples of good birds than we can potentially find here. After lunch we will head back to Quito, making one last stop at a hummingbird garden where we will pick up some new species of hummers and have a lot of fun before heading back to Quito. Our accommodations are strategically located in a birdy garden in the interandean valley. In the afternoon we will focus on interandean specialties like Blue-and-Yellow Tanager, Scrub Tanager, Western Emerald, Rusty Flowerpiercer and more. Night: Puembo Birding Garden
Day 16: Antisana & Tambo Condor
Today our main target will be condors, but other delights shall present themselves along the way. Much of the birding will be done close to our vehicle as this is a high elevation place and will feel sort of like a safari as we drive through the Andean Paramo until we reach a large lagoon riddled with waterfowl. Specialties include Black-faced Ibis, Silvery Grebe, Giant Hummingbird, and the highest population of condors in the country. We will have lunch overlooking a cliff where Condors roost and nest. Night: Puembo Birding Garden or drop-off to airport
• Small group Price: $ 5,540 • Large Group Price: $ 4,820 • Set Departure Price: $ 4,260 Single person supplementary $ 680 *Exact Itinerary may be forced to change slightly based on weather conditions or unexpected events such as land slides.
• Sunscreen • Herbal bug spray • Long breathable clothing • Water-resistant wind-resistant clothing • Hat or buff for warm weather and cold weather • Water bottle • Poncho or light rain jacket • Camera with rain protection (e.g. drybag) • Flashlight • Comfortable hiking shoes and rubber gum boots (only for some hikes) • Binoculars