Birding the Jewels of the South
Southern Ecuador offers a distinct birding experience from the one closer to Quito. There is a very nice variety of habitats. This circuit will go from sea level up over 4000 m.a.s.l. and cover many altitudes in between. We will see arid landscapes filled with big prickly cacti, the huge vast green of tropical rain forests, mangrove-laden coastal wetlands, mountain tops above where the trees can grow, and more! We visit many habitat-types because that will offer us opportunities to look for a very wide range of bird species. People who have already birded in Ecuador will find the south offers excellent new birding opportunities, and people who have yet to enjoy this wonderful country will be awestruck by the quantity and quality of
observations awaiting them.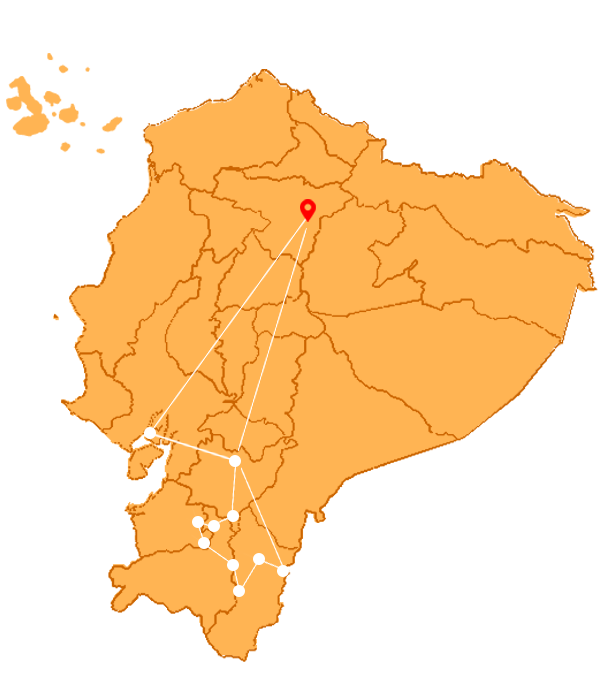 Destination

Included

entrance fees

Food (3 meals daily)

lodging

Personal Guide

Professional bilingual guide specialized in birds and natural areas

Professional touristic transport

taxes

Not Included

alcoholic beverages

extra activities

Flights

snacks

souvenirs

tips
Tour Plan
Welcome to Ecuador! I will meet you in the airport and take you to Puembo Birding Garden, which is only minutes from the airport. If your flight arrives while there is still daylight there will be birds here to be seen right off the bat! This is the perfect place to unwind from the flight and prepare for lots of nature and photographs! Night: Puembo Birding Garden
The exact logistics here will depend on flight availability. Ideally, we fly down to Guayaquil early. Or, we can do a cultural activity in Guayaquil, even if its at night. If we get to Guayaquil by mid-afternoon, then we should also be able to visit Cerro Mongus which is a dry forest site right outside of the city for more birds. Particular birds of interest in Cerro Mongus are the Lilacine Parrot and "Guayaquil" Great Green Macaw. Night: Guayaquil
Day 2: Manglares Churute & Cajas National Park
Manglares Churute is a nationally protected area close to Guayaquil. Our main goal here will be freshwater birds. We will be looking for ducks in particular and the Horned Screamer. There are two different lagoons we will explore before lunch. After lunch, the gears will drastically change. We will go from sea level to the tops of the Andes in the blink of an eye! We will visit the highest lagoon in National Park Cajas to look for a hummingbird endemic the the national park Purple-throated Metaltail, and Tit-like Dacnis. This lagoon is absolutely majestic even if we don't see a single animal. It will be much colder than the morning so be prepared! If there is still time after the lagoon, we will visit a Polylepis forest, which seems like something out of middle earth! Night: Cuenca *Consider an extra cultural day here in Cuenca*
Day 3: Cajas National Park & Yunguilla Reserve
First, we will visit a lower elevation lagoon, which has the highest birdlist in Cajas National Park, with hopes of photographing a Gray-breasted Mountain Toucan and a few more species of duck among others. Then we will head to Yunguilla Reserve to look for the endemic Pale-headed Brushfinch, little woodstar and enjoy their hummingbird feeders. Night: Saraguro
Day 4: Cerro Acanama & Cerro de Arcos
Cerro Acanama is a great site for treeline or elfin forest, and is a great place for Chestnut-bellied Cotinga, Crescent-faced Antpitta, Tawny-breasted Tinamou, and other treeline specialists. The afternoon will be spent in Cerro de Arcos, where our principal target is a newly discovered and described species of hummingbird, which is highly-endangered and endemic to this small area only. The hummingbird is the Blue-throated Hillstar and after we adequately enjoy this amazing bird and its story, we will continue on to Zaruma where we will get ourselves warmed up. Zaruma is a charming little town, touristically famous for its colonial architecture and I will suggest a walk around when we arrive. Night: Zaruma
After having a scheduled sleep-in and breakfast, we will leave Zaruma, heading for the Buenaventura Reserve, which is considered lowland and foothill forest containing both Chocoan and Tumbesian species. The activity right around the lodge is incredible, which is almost impossible not to see when upon arrival. The rest of the morning will be spent exploring the grounds, looking for the abundant mixed flocks, while admiring the lush vegetation and microfauna. After lunch, we will go look for the critically endangered and endemic El Oro Parakeet which is inhabits the upper limits of the reserve. The next couple of nights are in the lowlands, where short night time walks will be the most productive for arthropods, nocturnal birds, and hopefully mammals. Night: Buenaventura
Day 6: Buenaventura y Puerto Jeli
The morning's main target will be the Long-wattled Umbrellabird. This bird's unique appearance makes him highly desired by birders and photographers and Buenaventura is one of the most reliable places in the country to see this Choco endemic. Walking the road back to the hotel is a great way to pick up lowland choco species. After lunch, I will have arranged a ride around the mangroves in Puerto Jeli, which is about an hour drive from Buenaventura. Night: Buenaventura
Day 7: Buenaventura, El Empalme & Jorupe
We can try again for the umbrella bird, stay close to the lodge, or you can sleep in. After breakfast we will pack up the car and drive to the arid Tumbes region. We will break the drive a bit, heading to the dessert around El Empalme to look for the White-headed Brush-Finch and take in the scenery. We will hopefully arrive to Jorupe with enough time to catch the bustling activity right around the cabins. Jorupe may be called dry forest, but it will be different from most we see as it will be more green. The nice intact understory in the area harbors moisture that has been lost in areas where livestock graze. When it gets dark, hopefully a Spectacled Owl will be around and lots of insects are here. Night: Jorupe
Day 8: Zapotillo & Jorupe
My suggestion today is to bird our way to Zapotillo, which is the furtherst corner southwest in the country (about an hour ride from Jorupe) for a more diverse experience, but we can stay in Jorupe for a break from the driving. The road to Zapotillo offers patches of forest interspersed with agricultural areas and can be good for raptors and birds adapted to semi-disturbed areas with better forest showing up closer to Zapotillo. Also, a swamp in our trajectory should provide us with waterfowl and more. Either way, we can be in Jorupe again in the afternoon to explore some more and will be exploring new areas of dry forest the whole time. Night: Jorupe
Day 9: Utuana, Sozoranga, & Cerro Toledo
A quick breakfast and rapid departure from Jorupe will maximize the opportunity of finding interesting birds during a brief stop in Sozoranga, and finding the large flocks roaming around Utuana. Very close to the Peruvian border, Utuana represents the only remaining habitat of its type (more humid than Jorupe) remaining in Ecuador. This place's gems are the purple-throated Sunangel and Rainbow Starfrontlet. We may see two subspecies of Rainbow Starfrontlet and the male in Utuana has a crest with all colors of the rainbow present. The Black-crested Tit-Tyrant is another showstopper and we can only find him here. Other specialties to be enjoyed mean we will want to spend several hours here. We will have lunch near Loja and continue on to Cerro Toledo for a few hours. Cerro Toledo is a highland site, distinct enough to not miss. Neblina Metaltail, Casa Simpson is less than an hour further south. Tonight, we will probably opt to rest over taking a night walk. Night: Casa Simpson *Consider adding an extra cultural day in Loja*
Day 10: Tapichalaca & Vallodolid
It often rains and is cold in the high montane cloud forest protected by Tapichalaca but the birds love it! We should take our first opportunity here to look for the Jocotoco Antpitta in case we need a second opportunity the following day. The plan is to get the antpitta and keep birding the trails, racking in as many quality views of birds as possible. This bird list of these places are so long we will have hundreds of options. After lunch, we will leave the reserve, heading south towards the Peruvian border once again. This time, we'll be in the drainage area of the River Marañon, offering us a host of new possible endemics as well as just plain out good foothill birding. Night: Casa Simpson
Day 11: Tapichalaca, Old Zamora Road, Copalinga Lodge
If we need to, we will clean up the Jocotoco Antpitta. Otherwise we will hit a different trail to see what we can find, like Chestnet-Crested Cotinga or maybe an Undulated or Chestnut-Naped Antpitta. We could opt to leave early and revisit Cerro Toledo if our weather was bad, or pack up and move on to Copalinga in the late morning. On the way we will bird the old Zamora road where we can pick up several foothill species, like Coppery-Chested Jacamar. Copalinga is an excellent Amazon foothill birding site and we want to arrive in time to bird the area close to the lodge in the afternoon. This is a great place for night walks! Night: Copalinga
Day 12: National Park Podocarpus – River Bombascaru
In the morning we will bird the National Park Podocarpus adjacent to Copalinga. I have had the experience of being in the parking lot area of the National Park without even making it to a trail for 3 hours with the same gigantic megaflock. This place is indeed birdy and is a great place to extend your tour a day. We will head back to Copalinga for lunch and bird the road in the afternoon so we get a mix of forest and edge species (or we can return to the park for a bit). Night: Copalinga
Day 13: Copalinga & Yankuam
We can choose to bird anywhere between the hotel and the parking lot of the National Park in the morning, but we want to be packed up and ready to go before lunch. In the afternoon, we will be in the far southeast corner of the country. Cabañas Yankuam is in the Cordillera del Condor, a natural area threatened by lucrative mining operations. Hopefully, visits like ours can help save at least a significant portion of the forest in this biodiverse area. We get a mix of foothill amazon species and specialties that aren't anywhere else in the country. Once again, this is a great place for insects and night walks. This is maybe our best chance to find insects that are not known yet to science. Night: Cabañas Yankuam
The area around Cabañas Yankuam has an extremely long birdlist and we did a good amount of driving to get here, so today we will bird the trail the Cabañas maintain. Of the 440+ options, one of our main targets will be the rare, local, and beauful Orange-throated Tanager. We can stay close to the Cabañas all day or go to the area around Shaime to look for new scenery for the afternoon. Night: Cabañas Yankuam
Day 15: Maycu & Nuevo Paraiso Road
Reserva Maycu is close to Cabañas Yankuam and offers another amazon lowland/foothill adventure. We will explore this area in the morning and leisurely bird the road to the Cabañas in the afternoon, picking up more amazon lowland species and finding new scenery to experience. Night: Cabañas Yankuam
Day 16: Yankuam, Paquisha & Catamayo
After some relaxed birding close to the lodge looking for new things to photograph and breakfast, it will be time to pack up and go. Catamayo is an interesting site so we want to arrive with time to bird the area before our flight back to Quito. Near Paquisha, there is nice birding, giving the chance to stretch our legs, while looking for birds like Spectacled Prickletail and Vermillion Tanager and finding more photographic opportunities. Soon after, we will say bye to the Amazon basin and return to the arid highlands surrounding Loja's capital. Catamayo (where Loja's airport is located) is one of the driest places we will visit, which will become obvious by the landscape. The area around the airport holds Tumbes endemics that have adapted to this xeric landscape, so we will explore as much as time allows before catching the flight back to Quito in the late afternoon. In Quito, I will arrange another night in Puembo Birding Garden or elsewhere if desired and a ride to the hotel which will end the service. If a flight out of Catamayo is not available, we will get a flight back to Quito from Cuenca.
• Small group Price: $ 5,940 • Large Group Price: $ 5,280 • Set Departure Price: $ 4,790 Single person supplementary $650 *Exact Itinerary may be forced to change slightly based on weather conditions or unexpected events such as land slides.