Birding the Tumbes Specialties and Shorebirds Galore at the Coast
The coast is an under-birded portion of the country which is silly because the amount of birds just waiting to be seen and photographed here is immense. A quick flight from Quito to Guayaquil only takes approximately half an hour and the birding can begin almost immediately after. Most of the habitats here offer unique experiences, even for international birders who have visited other parts of the country. This is a great option for bird photographers and people who want great quality views of shorebirds, seabirds and Tumbesian birds. The Tumbes region is very dry  thanks to the Humboldt ocean current shooting north along the coast and sucking up all the moisture it can. Choco species are included in some of the more humid sites, making for a very diverse birding circuit distinct from the traditional ones apt for all levels of international birder!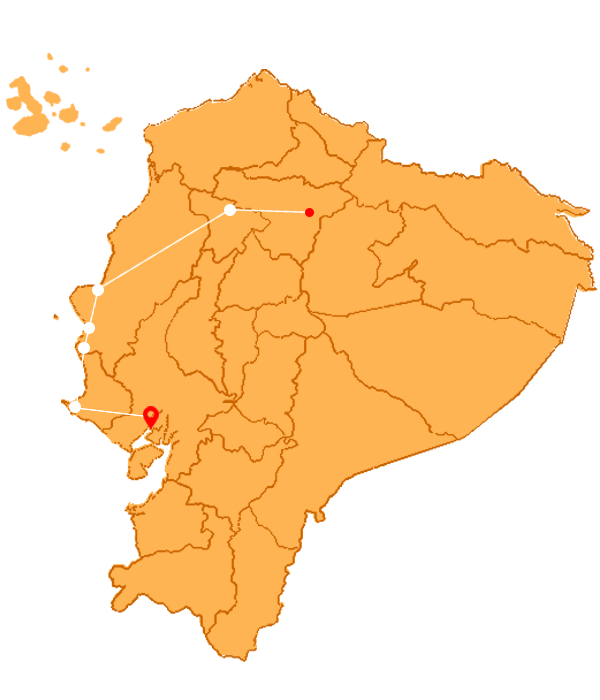 Destination

Dress Code

Casual, comfortable and light

Included

entrance fees

Food (3 meals daily)

lodging

Personal Guide

Professional bilingual guide specialized in birds and natural areas

Professional touristic transport

taxes

Not Included

alcoholic beverages

extra activities

Flights

snacks

souvenirs

tips
Tour Plan
Day 1: Flight to Guayaquil & Manglares Churute
Morning plane ride to Guayaquil, from where we will head straight to Manglares Churute. Here, we will explore mangroves (Manglares are mangroves in spanish) and freshwater lagoons. We will want to focus more on these two types of habitat, properly looking for rare ducks, shorebirds, Horned Screamers, and other waterfowl. Night: Guayaquil
Day 2: Cerro Blanco & Atahualpa
Cerro Blanco is surprisingly diverse considering its proximity to Ecuador's largest city. We will walk the main trail here, hopefully encountering mixed flocks of Tumbesian endemics. Afterwards, we will continue on to the peninsula of Santa Elena, one of the driest areas in the country. We will have seen dry forest by this point and will note the difference in Atahualpa, where the largest plants tend to be the cacti. I will recommend we stay in the Atahualpa area until sunset, when the scrub nightjars start flying around. The sunsets tend to be amazing here! Night: Salinas
Day 3: Chocolatera, Mar Bravo Salt Pools
The chocolatera is the tip of the peninsula, which is one the furthest western points sticking out on the South American continent. During whale season, they can be seen breaching while we are sitting on land. This is a fantastic place for sea-watching, which is a bit easier standing on land than while on a boat. After lunch, we will visit salt production pools close by. The salt pools are very important shorebird migration sites, with migrants present pretty much all year. After driving around inside the salt pools we will check the rocky shorelines nearby for new birds that prefer that habitat. Night: Salinas
Day 4: San Pablo Beach, Pacoa Salt Pools & Ayampe
San Pablo's estuary and beach are close to the entrance of Pacoa Salt pools. We will check both areas and see possibly an astounding amount of birds! The composition of birds changed throughout the year as many of them are migrants, but again there are migrants here year around! Next to the salt ponds, there is an area we can access to look for Peruvian Thickknee and is seemingly overrun with Burrowing Owl. In the early afternoon we will head further north to Ayampe, a lush oasis compared to what we have been seeing. The Chongon-Colonche mountain range funnels humidity into the River Ayampe watershed giving the area the means to be much more green then its surroundings. A night walk here is recommended. Night: Ayampe
Day 5: Ayampe & Las Balsas
We will spend the morning on the trail system maintained by the Jocotoco foundation, maximizing our chances of seeing as much as possible in the humid forest. A major target here will be the Esmeraldas Woodstar, an endangered endemic and one of the worlds smallest birds! After lunch, we will try a secluded patch of humid forest in hopes of finding the Great Green Macaw and Lilacine Parrot or walk the road around our hotel in Ayampe where we can potentially find a mega flock (40 species of bird or more in one single flock foraging together!). After our afternoon walk, we will head a bit further north to Puerto Lopez. Night: Puerto Lopez
Day 6: Pelagic birding & Isla de la Plata
Isla de la Plata is a highlight excursion for most people visiting Puerto Lopez. We will get aboard a small yacht and head out to sea. Isla de la Plata is an island which broke off from the continent and drifted out to sea. The habitat here is similar to the dry forest surrounding Puerto Lopez. Since it is an island without many mammal predators, it is covered with seabirds. The boobies and Frigatebird colony are nice crowd-pleasers. There is also a nice variety of dry forest birds living on the protected island. The endangered Short-tailed Woodstar, another very tiny hummingbird, abounds here on the island where its favorite flowering bush is protected. On our way back we will again be looking for sea birds as well as dolphins and whatever other surprises may await! Night: Puerto Lopez
Day 7: Los Frailes & Puerto Lopez
Los Frailes is a beach protected by the Ministry of the Environment popular for its picturesque cove. Like much of the area around Puerto Lopez, white coral is found in the shallow water in many spots, giving the ocean a very nice turquoise color when the sun is out. The beach is beautiful. There is also dry forest with a nice trail system set up, which passes up over an extraordinary lookout point. We will look for birds here like Dark-billed Cuckoo and Elegant Crescentchest. The lookout point and be a great place for getting birds in flight over the ocean. A nice way to conclude the walk (which can be a bit warm without much shade) is by enjoying a swim in the peaceful cove. We will head back to town for lunch and bird in the afternoon on the outskirts of town, which is surprisingly birdy. Waiting til dark may yield a Striped Owl, Peruvian Screech-Owl, Common Nighthawk, or Peruvian Pygmy Owl (Burrowing Owl should be around by day too). Night: Puerto Lopez
Day 8: Agua Blanca & Pacoche
Agua Blanca is a cultural tourist attraction set up in-situ where archeological remains of an old Manta-Huancavilcan settlement were found. Manta-Huancavilcans where an advanced cultural group occupying most of the southwest coast when the Inca and still when the Spanish arrived. Their descendants still live in the area and run the community tourism project which includes the museum and a walk to a sulphur pool with beneficial properties for those who bathe inside. I recommend a visit to the museum and sulphur pool as part of our walk, but we can skip it. The main purpose of the walk is to bird the really nice dry forest the community also protects. The normal tourist walk goes through the birdiest part, where Whooping Motmots, Necklaced Spinetails, Collared Antshrikes, and other endemics can be easier to see than in other sites we visit. After lunch, it will be time to say bye to the Puerto Lopez area and head north to Manta. Before arriving to Manta, we will arrive to Pacoche, where the local community protects a patch of forest that supports a population of Black Howler Monkeys. The forest is  a bit more humid than most of the places we have visited and will likely be full of birds. Manta will be close by when our afternoon walk is finished. Night: Manta
**We can add an extra day by going to isla de Corazón y Canoa**
Day 9: La Segua Marsh & Protected Forest "The Pearl"
La Segua Marsh is the largest wetland west of the Andes in Ecuador. It has been increasingly affected by Ecuador's growing shrimp industry, but remains the countries best site for Bitterns (Pinnated and Least) and has a slew of other freshwater and dry forest birds. We will have the opportunity here to canoe around for a bit on the freshwater. After lunch we head to "The Pearl" to bird small patch of lowland forest of humid forest before arriving to Puerto Quito for the night. At night we can look for Spectacled Owl and see what else is out. Night: Puerto Quito
Day 10: Itapoa Reserve, Rancho Suamox & Alambi Reserve
The Choco lowlands are known as the number one biological diversity hotspot in the world! Puerto Quito has lost most of its lowland forest cover within the last 50 years to agriculture and logging. All that remain now are remnant forests which act as sanctuaries for the birds within them. Itapoa, at 160 m.a.s.l. is one such sanctuary of very nice remnant lowland Choco rainforest. Our morning walk will add marvelous diversity to our trip, not just in bird species of course, but also in terms of experiences as the landscape here will be very green. Then, we will head to Rancho Suamox which is close by but already about twice the elevation to see a reforestation project with a garden geared towards attracting birders! This place has created nice habitat for Brown Wood-Rails, which is contrary to the normal trend of that bird losing its habitat. This site is still considered lowland Choco and we are sure to pick up several new birds for our trip in a short period of time. After lunch, it will be time to start heading back towards Quito. About halfway between Suamox and Quito we will have our only stop not in the lowlands. Alambi reserve will be a nice treat to finish off our 10 day adventure even if you have already been to the Mindo area. If you have not been to the Mindo area yet, here we will add on a number of new birds for you. One of the birds easier to get close to in Alambi is White-capped Dipper and if it's avocado season the quetzals and other avocado addicts will be impressive bonuses!
Cost per person:
Small group Price: $ 3,420
Large group Price: $ 3,280
Set Departure Price: $ 2,860
Single person supplementary $460
*Exact Itinerary may be forced to change slightly based on weather conditions or unexpected events such as land slides.
What to Bring:
Sunscreen
Herbal bug spray
Aloe Vera
Long light-weight breathable clothing
Water-resistant windbreaker
Hat or buff for sun protection
Water bottle
Camera with rain protection (e.g. drybag)
Flashlight
Comfortable hiking shoes and crocs
Binoculars
Bathing suit